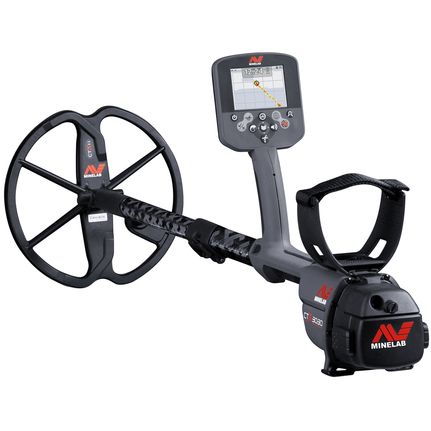 This Standard Pack Comes complete with additional options including integrated Wireless Audio, AA Battery Pack and Car Charger. These accessories are not available in the Starter Pack.


Waterproof
You can go detecting anywhere with this versatile TREASURE detector.You have the flexibility of land and underwater detecting as the CTX 3030 is waterproof to 10 ft (3 m).

Wireless Audio
Have the freedom to detect without your headphones being attached to your detector.With the WM 10 Wireless Module you have the choice of using the internal speaker, supplied headphones or your own favourite headphones.

FeCo Discrimination
With Ferrous (Fe) and Conductivity (Co) target resolution, plus adjustable Tone ID Profiles, you can detect the targets you want to and ignore the rest. With Target Trace and Target Separation, you can identify multiple targets simultaneously for accurate detecting results.

GPS Locating
See where you have been and where you are going by using the Map screen and Navigation Tool.New GPS functions, such as GeoTrails, WayPoints, FindPoints and GeoHunts, allow you to leave your handheld GPS at home!

PC Mapping
Upload all of your detector settings and treasure locations to your PC using the XChange 2 application. Attach photos and text to your finds, group them into categories. View the locations on Google Maps. You can also download data to your detector for re-exploring favourite areas.

Full Color Display
The full colour LCD clearly displays more target information than ever before and greatly enhances the CTX 3030's discrimination capabilities.

Quick Menus
give you easy access to 'on the go' adjustments. Smart functions (Sensitivity, Noise Cancel, Audio, Ground Balance) and a customisable User button allow fast changes to your most used controls while detecting.

Ergonomic Design
The well balanced design has all the battery weight behind the armrest for comfortable detecting. The detector is fully adjustable to suit your needs.

Mult-Languages
You can choose from 9 different languages: English, French, German, Italian, Polish, Portuguese, Russian, Spanish or Turkish.
"Discover history with the CTX 3030 and record your treasure finds!"

For quickly accepting or rejecting a detected target, the Identify function saves you time and effort! Edited patterns are automatically saved within your current Search Mode. Auto accept/reject discrimination features are also available for fast pattern editing using sample targets.

When you are searching, the Detect screen shows you all the target information you need to find more treasure – you won't miss anything! The colour display, Ferrous and Conductivity numbers, numerical depth indicator and sensitivity panel will give you more confidence to find those elusive good targets in heavily searched and high trash areas.

When you want to check treasure locations or ground you have covered, the Map screen shows you the way – no need for a separate GPS! The GeoTrail displays the path where you have been so you don't waste time detecting the same ground twice. Use WayPoints and FindPoints to create your own treasure map.

For recording find locations and entire treasure hunts, the Store function does it all! WayPoints are used as general position markers to easily navigate to your favourite locations. FindPoints capture location, detector and target data for storing details of your treasure finds.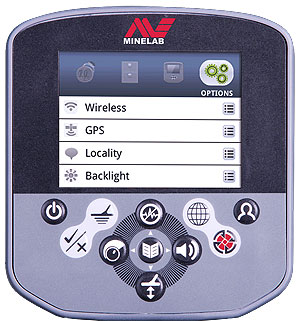 Mode
Choose from 10 customisable Search Modes. Five of these modes are preset to get you started (Coins, Beach, Relic, Silver and High Trash). Each Search Mode has two adjustable discrimination patterns.

Display
Customise the Map and Detect screens to display the information you want see. (E.g. Large ID Panel, Navigation Tool, Sensitivity Panel and GPS coordinates.)

GeoStore
Easily access and sort your detecting and location data for quick reference in the field. View the details and navigate to your saved WayPoints, FindPoints, and GeoHunts.

Options
Set up your detector for the most convenient operation with your preferred options. (E.g. Wireless, Backlight, GPS, Locality, Time Zone and measurement Units.)

On / Off
Also gives options for language selection and detector reset.

Sensitivity
Manual and Automatic Sensitivity options to maximise detection depth in all ground conditions.

Noise Cancel
Manual and Automatic Noise Cancel options to minimise external interference. This ensures faint target signals can be heard.

Ground Balance
Improved ability to effectively 'see through' heavily mineralised ground. This can enable accurate detection at greater depth in these conditions.

Audio
Threshold and Volume options to optimize Audio settings for your personal hearing and detecting surroundings.

User
Select from many functions and assign your favorite 'shortcut'.

Your world of discovery can now be simply managed on your PC. XChange 2 allows you to store and retrieve detecting data, and also display this on Google Maps.
It has never been easier to keep track of your detecting adventures and plan your next hunt. XChange 2 will change the way you go detecting – forever!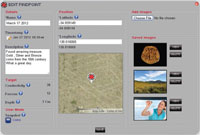 Add FindPoint Information
Add text comments and photos to your finds and/or hunts.
Important detecting information can now all be stored in one place with one PC application.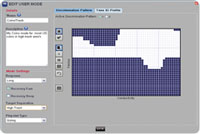 Edit Discrimination Patterns
Create and edit discrimination patterns on your PC and then download them to your detector.
Each detector Search Mode contains two discrimination patterns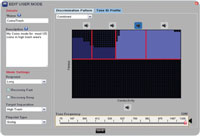 Edit Tone ID Profiles
Customise Tone ID Profiles by changing the size and frequency of each section.
Then download to your CTX 3030 for advanced detecting!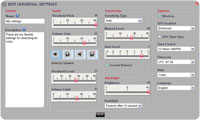 Edit Universal Settings
Personalize your CTX 3030 even further by adjusting universal detector settings such as Audio, Sensitivity, Backlight, Wireless and GPS.
"CTX 3030 Key Technologies "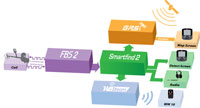 CTX 3030 uses advanced electronics and signal analysis
to give you much more information about buried targets than any other detector.
With FBS 2, Smartfind 2, GPSi and Wi-Stream, Minelab takes the World's Best Metal Detection Technologies to the next level of performance.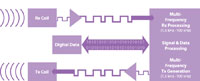 FBS 2 combines Minelab's FBS multiple frequency rectangular-wave transmission (1.5 kHz –100 kHz) with advanced digital coil-to-detector communications.
The precisely calibrated smart coils and detector electronics allow advanced signal analysis for more accurate detection.

Smartfind 2 greatly enhances Minelab's FeCo Discrimination to analyse and display a target's Ferrous (Fe) and Conductive (Co) properties on a full colour LCD.
Ultra-fast microcontrollers carry out digital signal processing to provide significantly improved target separation.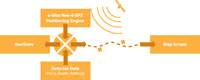 GPSi uses the high performance and flexibility of a u-blox GPS positioning engine to seamlessly integrate location and time data with detector settings and target information.
This creates WayPoint, FindPoint and GeoHunt files that are compatible with XChange 2.